SUPERCRYPTO - The Greatest Money Revolution Of All Time
By AdvocateNews on 18/12/2021
Views: 5,256
THE GREATEST MONEY REVOLUTION OF ALL TIME
Starting in 2010, Bitcoin grew from practically nothing to an almost $1-trillion asset, and counting. This could be even bigger.
By Weiss Crypto Investor

Dear Fellow Investor,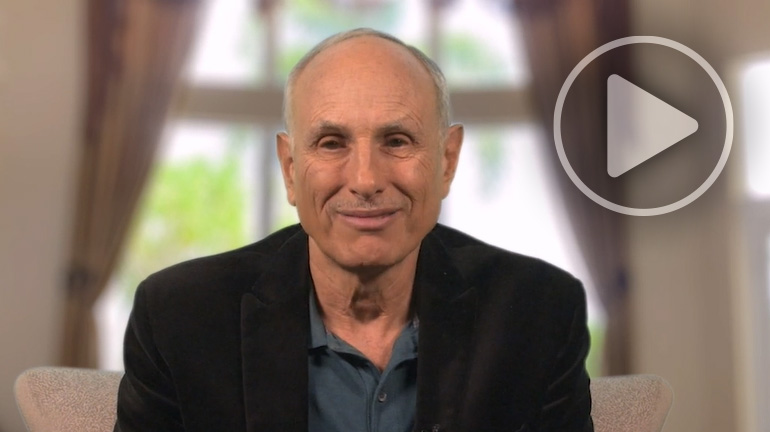 I'm 74 years old.
I've personally witnessed decades of history on nearly every continent.
And I've seen some truly crazy times …
Booms and busts, hyperinflation and deflation, military coups, civil wars and social revolutions, plus sweeping technological revolutions.
But I have never seen anything like this.
Even before the latest crisis began, the global economy was already in transition, already on the verge of turmoil with a massive shift in wealth and power.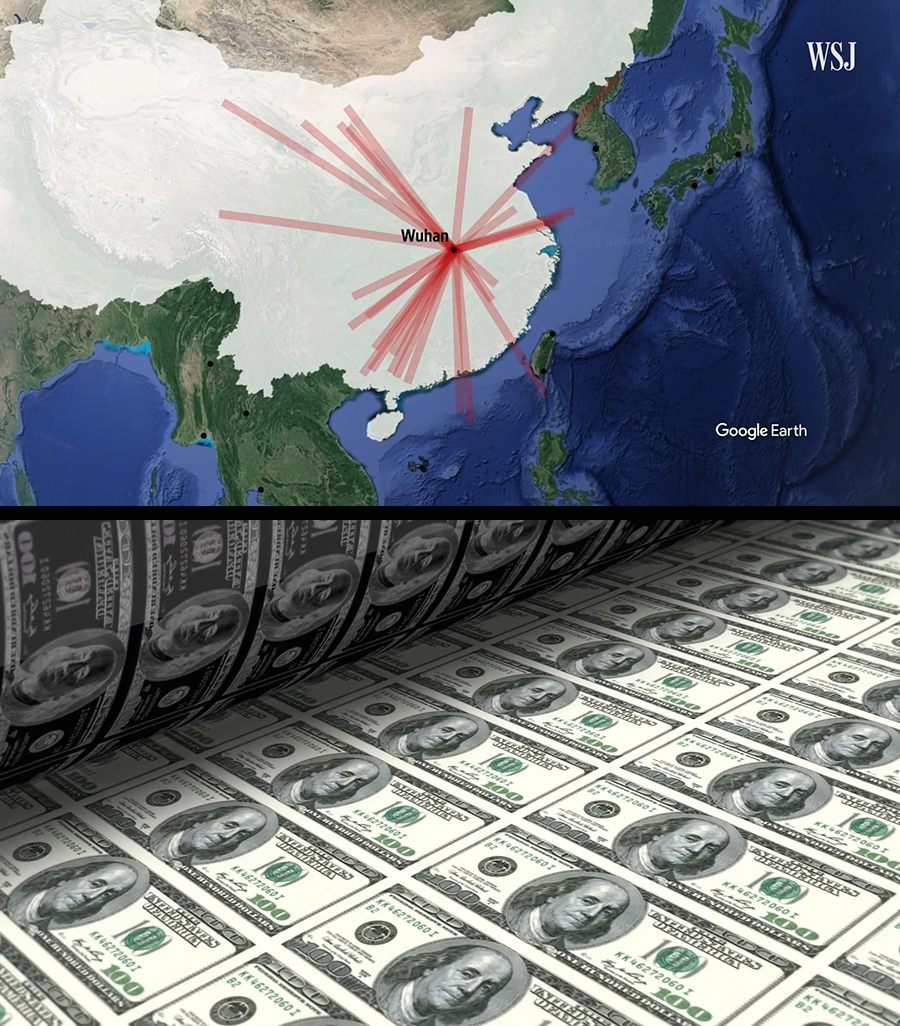 Then a frightening new coronavirus suddenly burst onto the scene, spread rapidly around the globe and mutated into an even more contagious strain.
Our cities became ghost towns. Global markets plunged. Leaders lurched from inaction to reaction. The U.S. Federal Reserve unleashed the greatest tsunami of money printing in the history of civilization. And massive amounts of wealth rushed from the brick-and-mortar economy to the modern digital economy.
All of these sudden changes — the pandemic, the Fed money printing, and the massive shift in wealth to the digital economy — happened in rapid succession, one after the other. And they're still happening right now!
But the dramatic changes we've seen so far pale in comparison to what's coming next.
I'm talking about the greatest money revolution — and the single greatest investment opportunity — the world has seen in centuries past … or will probably see in centuries to come.
Today, I will show you exactly how you can profit.
I'll name a core investment that has already quadrupled in value just in the last six months and is likely to quadruple again over the nextsix months.
And I'll tell you about three others that are surging three, five, even up to 29 times faster.
But first, I want to help you to better understand the full dimensions of this amazing money revolution.
This money revolution will transform nearly every investment and nearly every investment market in the world today.
It will radically change how you borrow and lend money, how you buy and sell stocks, bonds, commodities, real estate and more. It will directly compete with — or even replace stockbrokers, commercial banks, investment banks, even central banks.
It's so pervasive, so fundamental and so far-reaching that I can only describe it as the Greatest Money Revolution of All Time.
Most people, though, have never even heard of it. And yet, it's already spreading around the globe, gaining momentum and making early investors wealthy.
It's a completely new, safer, cheaper, faster and much more profitable financial system. And it's built on the same basic technology that was used to create …
Bitcoin.
As you've probably seen, Bitcoin has surged in value. But Bitcoin itself is not the primary cryptocurrency that's leading this great money revolution. The cryptocurrencies leading this revolution — especially the ones I'll name today — have gone up three times more than Bitcoin, five times more than Bitcoin, even 29 times more than Bitcoin.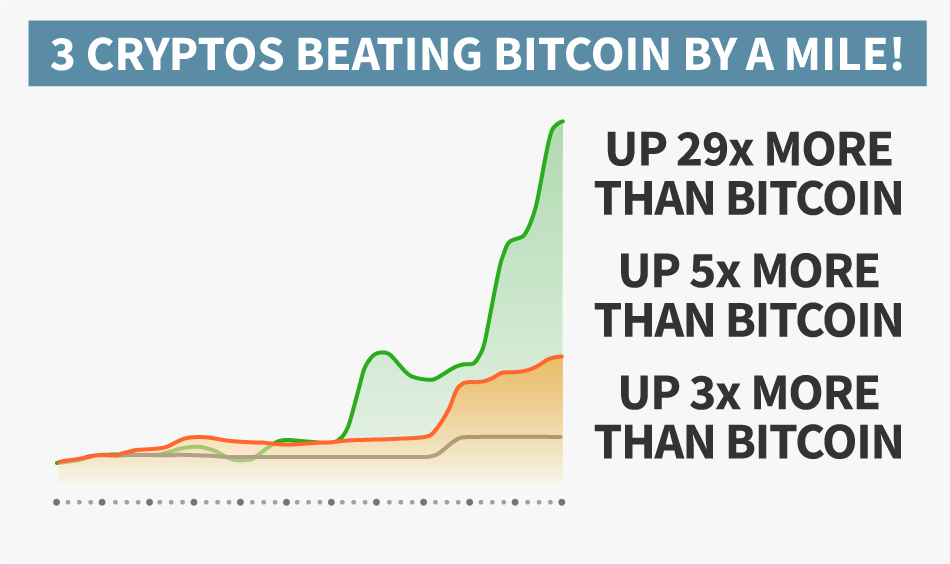 Exactly Why Are They Surging?
And How Much Money Could You Make?
Well, first let me answer those questions about Bitcoin. Then I'll tell you more about the cryptocurrencies that are leading this great money revolution.
Actually, we gave investors answers to the Bitcoin questions back in February of 2020, before Bitcoin blasted off. And the main reason we gave was a crypto trigger event called the "Bitcoin Halving."
We explained that the Bitcoin Halving cuts new supplies of Bitcoin in half, which naturally drives prices higher.
What's more important, we demonstrated that every single time the Bitcoin Halving occurred in the past, it helped create some of the biggest fortunes of the century, minting hundreds of new millionaires and even billionaires.
For example, the previous time the Bitcoin Halving took place, in 2016, you could have made over 30 times your money, enough to turn $10,000 into over $300,000.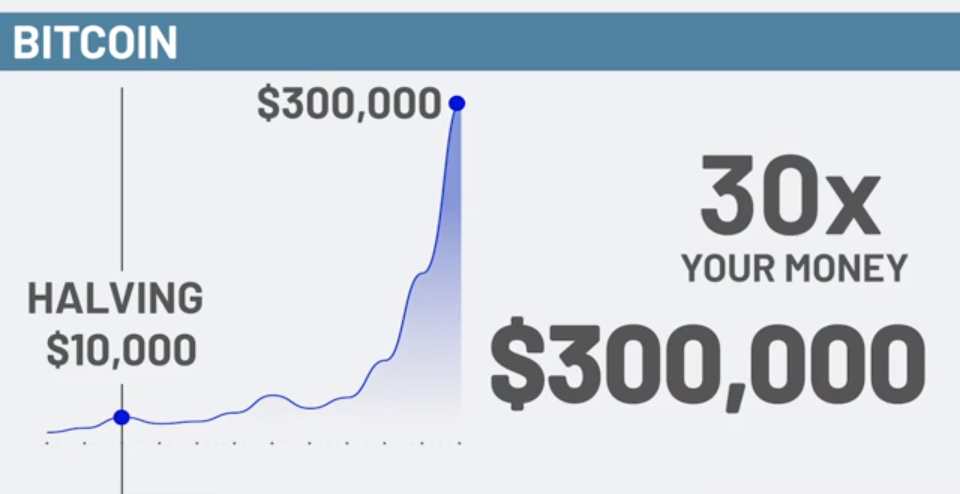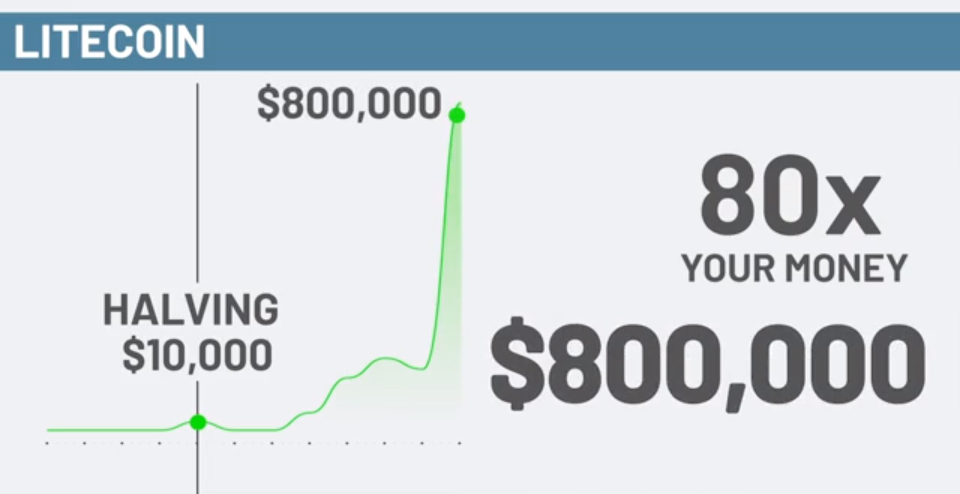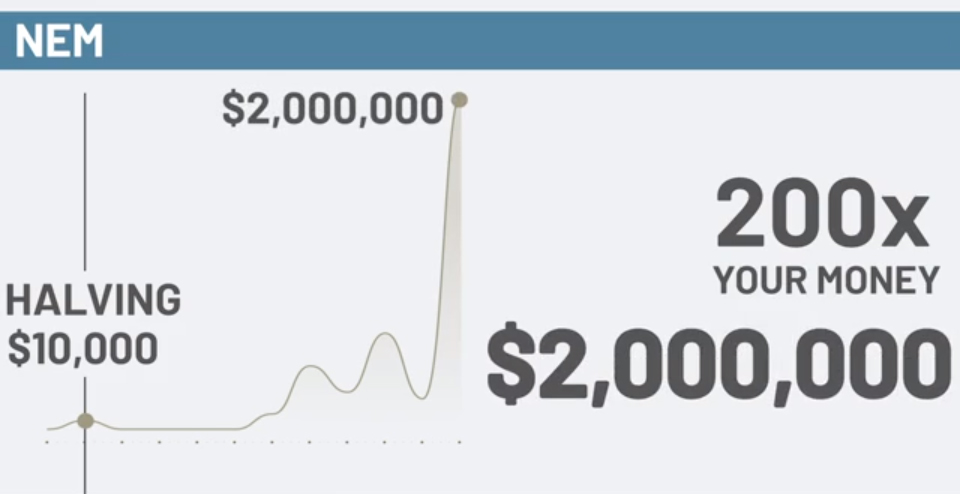 Better yet, if you bought another popular cryptocurrency, Litecoin, on that same day in 2016, you could have multiplied your money 80 times, enough to turn $10,000 into more than $800,000.
And if you had invested $10,000 in a crypto called NEM, you could have made about $2 million, or 200 times your money.
All in less than 17 months.
Last year, we told investors all of this was going to happen again. And sure enough, it IS happening again, just as we said it would.
Check off the boxes of our forecasts and you'll see what I mean …
We had the Bitcoin Halving right on schedule. Check!
We have Bitcoin surging once again, up by more than $40,000 so far. Check!
We have seen other cryptocurrencies surge three, five, even 29 times more. Check!
Now, on top of all that, we have central banks printing trillions of dollars, and we have the ultimate solution to this chaos — which is the great money revolution I'm talking about today.
The great money revolution will usher in a completely new, previously unimaginable future — a global financial market without banks, without bank fees, brokers, middlemen, clearing houses, even without central banks themselves!
A world where every transaction is directly between the seller and the buyer — completely secure, completely private and beyond the reach of any government money printing.
It's a new financial marketplace that will challenge, that will transform — or will even replace — a growing share of the existing global financial markets.
Just consider how enormous that opportunity really is.
53x Growth in This Cycle, 530x Growth Over Time
The traditional global financial system has more than $400 trillion in assets today.
And now, this financial revolution is about to challenge a growing share of those $400 trillion. In fact, it's already experiencing explosive growth.
In the next couple of years, if it competes with or replaces just a 1% share of the global financial system, this new sector could experience 53x growth!
Suppose it achieves a 10% share. Then it will have grown 530 times.
And it's already on its way.
One reason it's growing so fast is because a select group of savvy investors around the world see how central banks are printing money by the trillions.
They see how government is threatening to destroy the monetary system.
And they see how that entirely new world of finance is probably the only viable solution.
So, they're rushing to buy the key assets that make this revolution possible.
They see how, in this new world, you can borrow and lend money, buy and sell stocks without a bank, without a broker, without an agent or middleman of any kind.
All peer to peer, direct between lender and borrower, or between buyer and seller!
That means …
No usual middleman fees.

Since you cut out the middleman, you cut out the large fees and mark-ups that middlemen typically charge. Think about that. It's huge.

No confiscation.

There's no way government can confiscate your assets with this new financial system. You and you alone retain full control over your assets. Plus, you can take physical possession of them almost any time. Instantly.

No fear of bank failures

like the bank failures we saw in the Great Debt Crisis for example. Why? Because there are no banks.
And most important, no money printing by governments that can debase the currency your assets are denominated in.
So, precisely when central banks are going wild, printing trillions of dollars …

Precisely when some of the greatest threats ever to the global economy are swirling all around us …

Along comes this very viable alternative that can revolutionize — and stabilize — the global economy.
In fact, this could be the only way to save the world from a devastating monetary crisis.
We're not talking just about one Apple, Inc. or one Amazon.com.
We're not talking about just one sector of one economy.
We're talking about a new global financial structure that's starting to challenge the entire $400-trillion global financial system!
And you can profit immensely from its rapid growth starting right now, even as the traditional economy continues gasping for air.
So what is this financial revolution and how do you make money from its explosive growth?
It's called Decentralized Finance, or DeFi for short.
And already, just in the last year, its actual usage has grown by more than 80-fold.
That's growth rate of 8,000%!
Now, that's a true superboom, fueling a massive wave of profit opportunities.
So here's the key: The way to make money from this superboom is to buy the cryptocurrencies that represent the actual building blocks of this new financial system.
I'm talking about the cryptocurrencies that are leading the charge in this new world of Decentralized Finance, DeFi.
As I said a moment ago, one of those cryptocurrencies typically rises three times more than Bitcoin.
Another has jumped nearly five times more than Bitcoin.
And a third is literally going through the roof, rising 29 times more than Bitcoin.
And this is …
Just the Beginning of What Could Be The Single Greatest Opportunity Since The Launch of Bitcoin Itself
That's saying a heck of a lot because a lot of money has been made in Bitcoin. Just consider the history of my own company, Weiss Ratings …
About ten years ago, a Weiss executive was offered 200 Bitcoins stored on a small pen drive. Back then, it was just a gift barely worth a nice lunch for four. Today, that small, friendly, gift would be worth more than $11 million.
A few years later, one of our Weiss analysts explained the amazing future of Bitcoin to a relatively small group of our readers. If each of those readers had bought just one Bitcoin at that time, they could have made over $1.5 billion in profits, collectively.
And these are just a couple of the examples of how my team took an early interest in Bitcoin — and how Bitcoin has created, or could have created, thousands of instant millionaires and even a few billionaires.
But there's more. You see, that's when we embarked together on a monumental new project: To develop the world's first and only cryptocurrency ratings.
At that point in time (December 2017 and January 2018), investors all over the world were going absolutely nuts for Bitcoin.
Crypto markets were in bubble-land, grossly overpriced and extremely risky.
So, our new crypto ratings naturally reflected that. And when we issued our first ratings, not a single crypto got an "A". And so, our message to investors was absolutely clear:
"Stay away or get the heck out."
Bitcoin lovers around the world erupted in rage. They even mounted a cyber-attack on our Weiss Crypto Ratings website.
Fortunately for us, the attack failed. But unfortunately for Bitcoin owners, we were right: Bitcoin crashed and investors who failed to heed our warnings saw their portfolios lose most of their value.
Then, one year later, on December 12, 2018, when the price of Bitcoin was hitting rock bottom … that's when we announced to the world that it was finally time to start buying Bitcoin!
Our announcement went viral.
Coin Intel News broadcast it all over the internet, and they said,
"Weiss Ratings calls the bottom."
Bitcoin News wrote …
"Weiss Ratings declares now best time to buy Bitcoin."
Countless blogs and websites picked it up, too. Sure enough, three days later, Bitcoin hit rock bottom and that was the end of the crypto bear market of 2018.
Now the crypto crowd doesn't hate us anymore.
One crypto commentator wrote,
"Your transparent and unbiased ratings will bring light to the darkness and murky crypto world."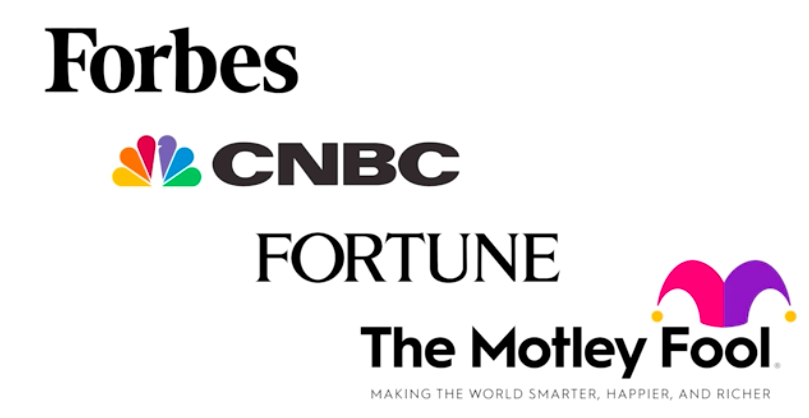 Forbes, CNBC, Fortune, The Motley Fool, and many others told their readers about the importance of the Weiss Crypto Ratings.
And crypto blogs all over the world have praised our Weiss Ratings experts for their uncanny accuracy in pinpointing the best cryptos to buy … and the right time to buy them.
So, here are the steps I recommend you take …
Your first step is to avoid our low-rated coins.
We currently rate over 1,000 cryptocurrencies, and the overwhelming majority of those get bad grades.
Don't touch them with a ten-foot pole, no matter what hype you may hear on the internet.
Let me name seven which are among the ones that many investors are getting sucked into right now:
Algorand

Holo

ICON

Wanchain

Skycoin

Kin, and

Electroneum.
Just by avoiding these kinds of low-rated cryptos, you cut your risk by a large margin.
Of course, with any investment, eliminating ALL risk is impossible, which is especially true for cryptocurrencies. And that's why it's so important to focus on the few cryptocurrencies that merit our best ratings.
Your second step is to invest not only in Bitcoin, but also in the three cryptos poised to help you make triple, five times more, even 20 times more than Bitcoin.
I call them super-cryptos, and in a moment, I'll give you an opportunity to download our latest report on each one — for free.
Supercrypto #1 is an absolutely essential building block of Decentralized Finance. After the Bitcoin Halving in 2016, it surged over three times more than Bitcoin. And after the Halving of 2020, it again surged three times more than Bitcoin.
We see this three-to-one pattern time and time again, and so I can say with a high level of confidence that, in a crypto bull market, you have the potential to make at least three times more in this supercrypto than you can make in Bitcoin.
Why is supercrypto #1 so important right now?
Because its network is the paramount world computer that circles the globe and is shared by millions of users on earth.
Not just people connected on the Internet like you and me right now but much, much more than that. With this supercrypto, millions of users also share an ultrasecure database — a decentralized database that's replicated and distributed all across the globe.
That's the miracle of the blockchain that Bitcoin is based on.
But unlike Bitcoin, this supercrypto's global network is where millions of users can also share thousands of computer programs — called decentralized applications or DApps.
And these DApps include the programs that let you borrow and lend or trade stocks directly with your peers anywhere in the world, that are giving birth to the great money revolution.
We tell you all about it in our special free report "Supercrypto #1. The World Computer That Will Take Over the Internet."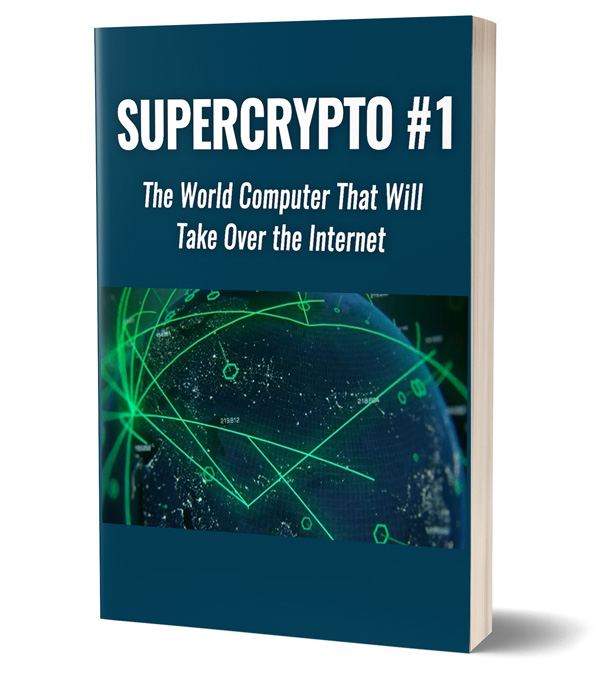 This giant world computer is everywhere — North America, Europe, Asia, and every continent on the planet, but it lacks one thing.
It does not have eyes and ears to know what's happening in the financial markets. For that, it needs something that connects it to the real world, that feeds it real-time data on current prices from all the financial markets of the world — New York, London, Frankfurt, Dubai, Hong Kong, Tokyo, even São Paulo, Johannesburg, and Sydney.
And that connection is provided primarily by the second supercrypto.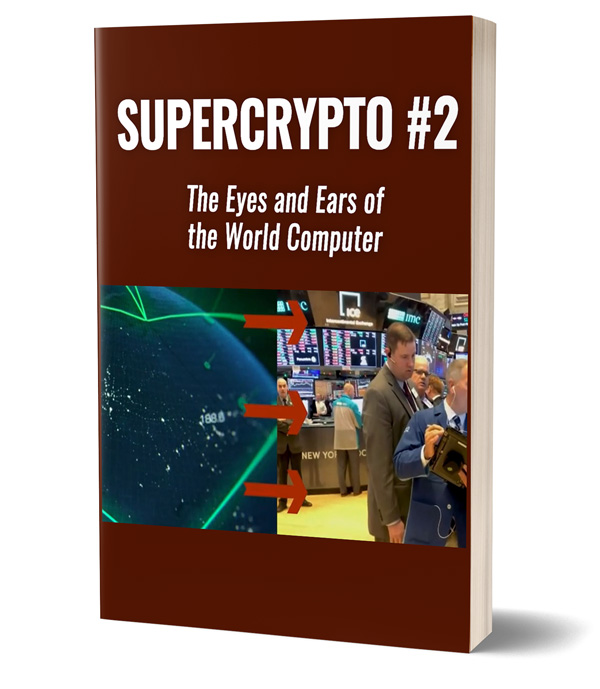 We tell you about it in our just-released free report, "Supercrypto #2. The Eyes and Ears of the World Computer."
This is the supercrypto that's surging five times faster than Bitcoin, and should continue to do so for years to come.
But if you think that's exciting, wait till you read about "Supercrypto #3. The DeFi Leader That's Making Investors 29 Times More than Bitcoin."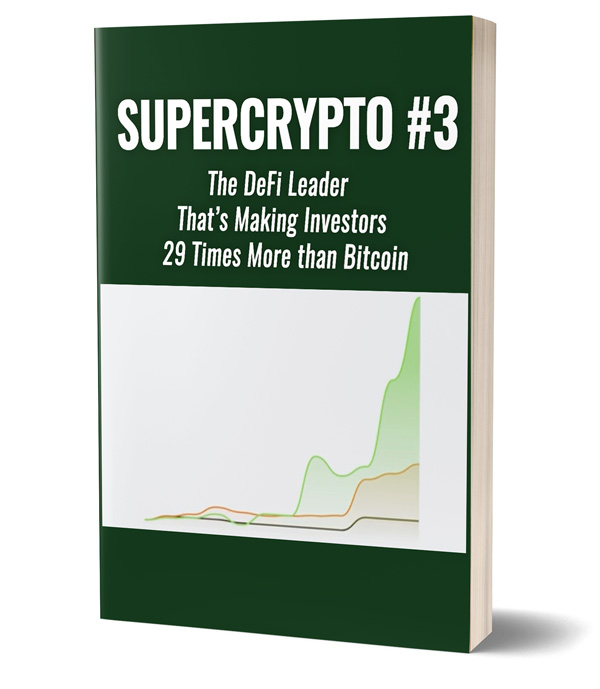 This supercrypto is the single fastest-growing asset in the new world of decentralized finance. Why? Because it's the provider of the highest safe yields in the world today.
Some people say it's like a virtual bank. Others say it's like a digital hedge fund. But no matter what you call it, the fact is, if you're a depositor, you can earn yields that are many times greater than what you can get in a bank CD today.
And if you're an early investor, starting in July of 2020, you've already made 29 times more than you could have made with Bitcoin.
Should you invest all your money in these cryptocurrencies? No. Of course not! But with profit potential they can provide, you don't have to invest all your money.
You can invest just a small fraction of your money and still have the opportunity to make a real difference for yourself and your family.
Source: https://weisscryptoalert.com/reports/WCI/gmr/
Posted 18/12/2021 07:02:27 AM
---
You may also like...

Police take over APC National Secretariat

Patronise locally-made products, Buhari tells Nigerians

Experts fault re-opening of schools amidst COVID-19 second...

Southern Kaduna: Lekwot's killing will worsen crisis, CAN...

Security agents killed 21 IPOB members in Enugu...

Hoodlums set ablaze INEC office in Abia again...

Rep member, Okechukwu, empowers 150 constituents in hospitality...

Nigerian varsities now breeding grounds for cultism —...

Buhari govt linked me to Al-Shabaab terrorists –...

Ngige congratulates President Buhari @79

Enugu community under siege by gun-wielding youths, Monarch...